I have to get up quite early lately for work so I've managed to cut down my makeup routine. Those extra few minutes of sleep are so precious to me (cranky vs. somewhat awake and ready for the day). Thanks to the Laniege BB Cushion (whitening version) in #21 Natural Beige, I can get base makeup down rather quickly - in under 3 minutes to be exact.
I absolutely love carrying this solidly built compact around. It's durable, has a great mirror, and just feels great in the palm of my hand. I'd say the packaging looks quite luxurious!
It also comes with a "cushion" - a sort of synthetic "anti-bacterial" puff to apply the BB cream. There's a plastic divider between the mirror and the makeup to store the cushion. I dab the cushion in the product then tap, tap, tap the foundation in light, gentle patting motions onto my skin. It has a nice cooling and moisturizing effect on the skin at first, but then the sensation goes away after multiple uses. I find that putting on two layers gives me medium coverage over my hyperpigmentation spots.
I learned that Target is now carrying the US version of this product in different skin tones and purpose (no whitening benefits) but with the same, great SPF 50+ coverage. As you can see in the color chart below, Koreans like their skin quite vampire-like; naturally, Laneige is offering darker colors to their US customers. You can find out where to purchase this product
here
. The color I use, #21 Natural Beige, converts to "Light" in the US version.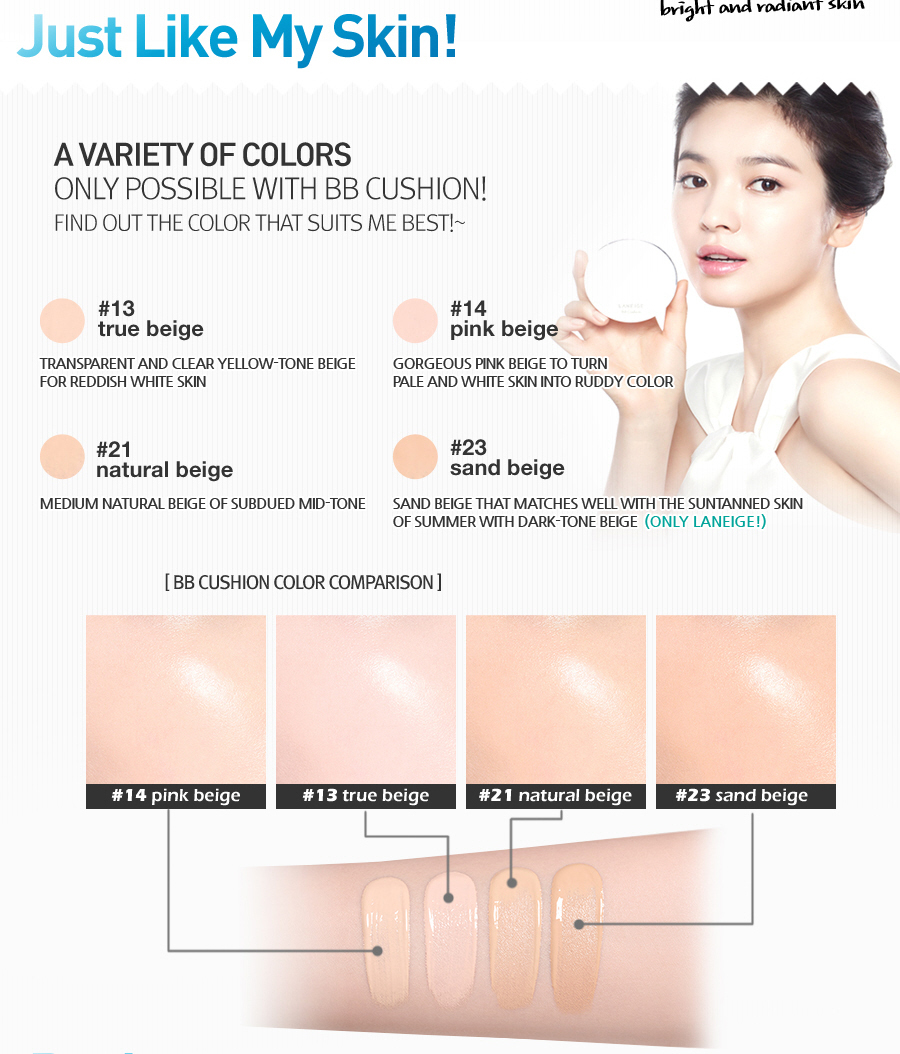 In terms of lasting coverage, I would definitely tell you to reapply this product during the middle of the day if you are a greasy gal like me. Also, the product tends to fade in a way that's not flattering to pores - hard to explain but true. So if you are a set-it-and-forget-it type of person, this may not be the product for you. Overall, I like simplicity of using this product, the lightness of the BB cream in a compact package. The formula isn't perfect, but it's good enough for my needs. I use Dior Diorskin Nude Compact in 020 Light Beige to set the foundation which also works great for touch ups.
What base products do you use that cut down your makeup time?